Living as Brothers
Official Selection : CLIFF 2012 and Progressive Film Festival, Africa World Doc Film Festival
July 2014
After winning a MADA Award at COMMFFEST 2013 last fall, Living as Brothers is one of the few films selected to be screened around the world as part of the 2014 Africa World Documentary Film Festival! I am obviously thrilled.
Purchase Living as Brothers
Interest in my film about migrant labour, workers rights, Jamaicans and the tender fruit industry has been spectacular. Labour groups, church groups and universities have been purchasing the film for use in classrooms, as part of fund raisers and special events. I have been attending these whenever possible and there is a film screening in Kingston Jamaica in the next few weeks (would love to attend).
If you are interested in purchasing the film for your school or group, please contact me
September 2013

Living as Brothers gets into COMMFFEST! So excited and honoured. The film will screen at the Rainbow Theatre on September 13 at 7:45. Please come out for the screening!!!
More information HERE
About the film
Living as Brothers looks at the lives of Jamaican migrant men toiling in the orchards of Niagara-on-the-Lake, unseen by the thousands of tourists who descend on the small town each year. In their own words, these men, some of whom have been returning for over twenty years, tell of the second life they've created for themselves in Canada, the reasons for their making this journey, and their struggles back in rural Jamaica. Told over a season of picking fruit, their story is arduous, stressful, precarious, offering few second chances, but is ultimately one of brotherhood.
I grew up in Niagara and actually worked on this farm that I focused on for the film. I had unprecedented access to these men and traveled to Jamaica several times to learn more about why they came so far to do work that most Canadians would prefer NOT to do.
contact me: kevin at kevinfraser dot ca
Next screening is in April 2013 in Ireland at the Progressive Film Club in Dublin Ireland. I am honoured to be considered for such a prestigious screening series. Wish I could have been there!
---
Official Selection - CLIFF 2012
Living as Brothers was one of a handful of features selected to screen as part of the Canadian Labour Film Festival in 2012. The film screened all over Canada, from Whitehorse to Toronto to St. Catharines.
---
---
Living as Brothers played on Saturday, Dec 1st, 2012 at Innis Town Hall as part of CLIFF 2012. It also played in Whitehorse, St. Catharines and Fort Erie.
I was lucky enough to have a few articles written about the film:
http://www.stcatharinesstandard.ca/2012/11/16/filmmaker-tells-niagara-farmings-untold-stories
http://www.whatsupyukon.com/article-view.cfm?ArticleID=1484
UPDATE: URGENT - November 2, 2012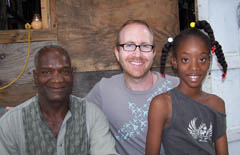 Hello everyone. I am sure you are all aware of the devastation that Hurricane Sandy unleashed in the US last week. The lesser known story is the devastation that has hit the Caribbean- places like Haiti, Cuba and Jamaica. I got a frantic call from the 'star' of my documentary, Noel Smith, this week who told me that his entire farm had been washed away. His house was intact, his family all safe, but his means of providing for his extended family - he supports his grandkids and son-in-laws as well as his five children - was wiped out. He is asking for my help and I am asking for yours.
Noel is an ordained minister for his small town of Llandewey Jamaica, a tiny village about an hours drive east of Kingston. He worked in Canada on the farmwork program for about 20 years until he was fired by his boss for unspecified reasons. My film documents his struggles during his time on the farm picking peaches as well as the aftermath of his dismissal. Was it racist? Was it ageist? No one knows for sure (although his son is sure that he was just getting old and suffering injuries) but what is certain is that Noel is the patriarch of his extended family and many people depend on him. Here is the opening of my film which shows his family making coal to make ends meet before Noel leaves his family once again for picking fruit in Canada.